Mrs. Shenk's Class

Welcome

to room 822! We are off to a great start for this school year! My name is Mrs. Schenk and I am looking forward to working with all of you. Please read through the following information and let me know if you have any questions! Thank you!

Communication

Communication is key in this classroom! There are multiple ways to get in touch with me. A communication book will be going home daily with an update from the day. Please feel free to write back to me, as I read these first thing in the morning. Along with that, I personally favor the Remind App which we also use. I can send out classroom announcements and this app allows us to "text" back and forth or set up an appropriate time for a phone call. Please contact me to let me know if you need the information to join our "class". Another way to contact me is through email. My email address is meghan.ansberry@hanovertwpschools.org. Please feel free to use any of these choices at any time! I do my best to get back to you in a very timely manner! You also have the option to call the school at 973-515-2427, where the office will let me know that you called and I will call you back at an appropriate time.

Supplies

A message was sent via Remind app with a list of supplies needed for this year. If there is any issue with purchasing/finding these items please let me know.




Soft pencil case with binder holes

1 box of pencils- sharpened

Pens (erasable blue and red)

Highlighters

2 dry-erase markers

4 Spiral notebooks

6 Two pocket Folders

2 one inch binders

2 sets of 5 binder tab dividers

1 container of disinfecting wipes




Daily Routine

Each morning, your child will come in, unpack into their desk and locker, and write down the homework listed on the board. I will check agenda books before they are put away. We will start each morning with a morning work, which can be activities including a number of the day, word of the day, correcting a morning message, quick math facts, etc. We will follow our schedule throughout the day. Your child will be out of room 822 for non-academic classes (unless specified on your child's IEP). These classes include Applied Arts, PE and Adaptive PE, Study Hall, Lunch, and if your child participates in Band or Chorus. The classroom aides, Mrs. Antico, Mrs. Chimento, and Mrs. Hegarty, or myself with be with the group, or small groups at all times. Each of the students will return to room 822 after period 10, if they are not already here, to pack up and be dismissed.

Academics and Expectations

All academic classes will be covered in room 822 including Science and our Life Skills Units, Social Studies, Reading, Language Arts, and Math. Each student will be taught at their appropriate level, based on their IEP. Small groups and whole group lessons will be conducted throughout the day. Small groups are not set in st0ne and can change throughout the year. Math will be based off of the Pearson Envisions curriculums. Reading and Language Arts will be from Treasures and Triumphs series. This year's Science will be based on the FOSS Earth and Sun program. In Social Studies, we will focus primarily on American History, following the American Revolution. Current Events and calendar holidays also play an important role in our Social Studies class. Each of the programs listed will provide the footing of our learning, but will be modified with supplemental materials to best meet your child's needs.

We also utilize google classroom to complete assignments and share links to use. Your child needs to log on to their school google account and go to classroom.google.com to access this information!

Grading

Students earn points for each assignment in each academic class. Some assignments are higher in value than others. Grading includes, but is not limited to, formal and informal assessments, classwork, participation, and homework. After three missed homeworks during a marking period, the grade will be impacted. Each of the student's grades are based on their specific needs from their IEP. At the end of the marking period, the grades are tallied up and averaged appropriately, per class.

Snack, Lunch/Study Hall, and Band/Chorus

At the end of Period 2 or beginning of Period 4 depending on the day, the students will be given the chance to have a small, healthy, mess-free "working snack". Some ideas to consider include fruits, vegetables, cheese, popcorn, goldfish, crackers, granola bars and pretzels. They will be expected to work while they eat.

This year is a little different than previous years in regards to the Lunch and Study Hall schedule. Students are assigned to be in a Study Hall, where they will be in another classroom with peers. An aide will be joining them during this time. Your child will be in either a 5th Period Study and 6th Period Lunch, or 5th Period Lunch and 6th Period Study.

Band and Chorus mini lessons will take place during your child's Study Hall on the scheduled days. Band Mini's are 3 times a week. Band students will also be pulled from class once a week for a lesson.

Specials (Applied Arts)

Each student is placed in an Applied Arts class. During this time they follow their assigned schedule, and a classroom aide joins them. Here at Memorial Junior School, the Applied Arts classes include Contemporary Arts & Design (formerly known as Home Ec.), Computers, Technology, Art, Music, and Guidance. Each of these classes run on a cycle or semester timeframe.

Goals and Expectations

I expect that this will be a phenomenal year! Your child is going to physically, mentally, emotionally, and socially grow. The expected behavior has been discussed in class. Our classroom rules are as followed: Be Safe, Always be Prepared, Be Kind and Respectful to Fellow Students and Adults, Raise Your Hand, and Listen and Follow Directions. Each student also has specific goals in their IEP. Please let me know if there is anything additional you would like to focus on during this year.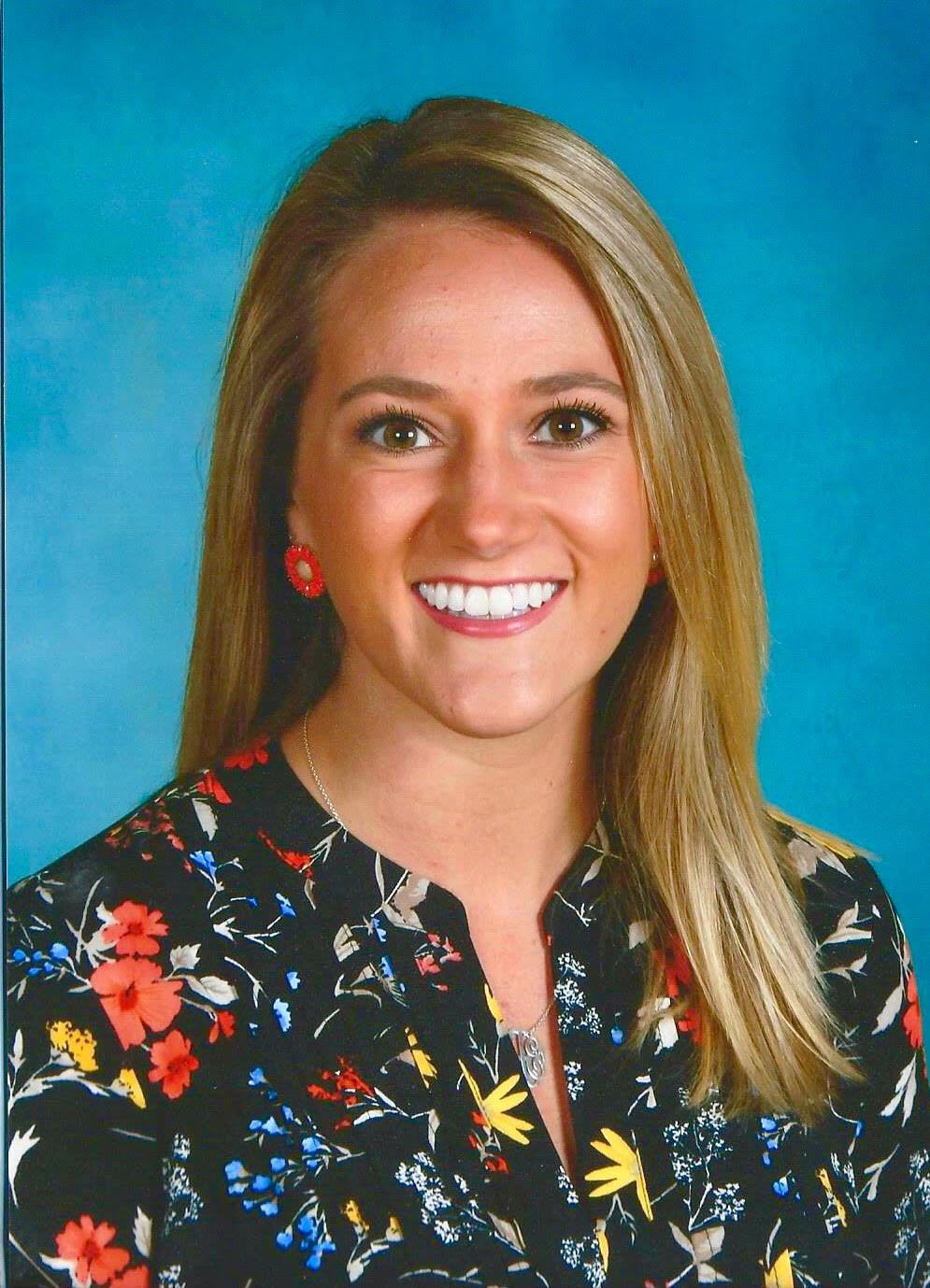 Phone:
Email:
Degrees and Certifications:
Miss

Ansberry

I have been teaching in Hanover Township Schools for 4 years,
at Salem Drive Elementary, Mountview Road School,
and now Memorial Junior School.

I also volunteer for an organization called Autism on the Seas,
typically cruising over the summer to provide accommodations
for families with kids with special needs on vacation.

After school I also write ABA curriculums and work as a
Child Development Specialist for Early Intervention.

I have six years of experience working in a traumatic brain injury
rehabilitation in patient hospital as a nurses assistant.

In my free time I enjoy hiking, kayaking, going to the beach, and spending time with my loved ones.